Communicating Climate Change
Communicating Climate Change
Christine N., Information Services Office
When did you start paying attention to environmental issues?
There was a line in the English drama I acted in at secondary school: 'We do not inherit the earth from our ancestors, we borrow it from our children.' I kept thinking about it and started to reflect on whether the resources we enjoy currently would still prevail in the future.
So, when did the behaviour change kick in?
In my second year at university, CUHK launched a 'Walk For Green' Programme to encourage us to rely less on the campus shuttle but walk between the University MTR Station and the Central Campus. After trekking along the suggested route for a period, I discovered the scenery along the way was different every time I walked. Occasionally, I came across animals like cats and monkeys. There wasn't even a chance to notice these had I taken campus transport. Slowly, my campus mates became influenced by me and we began walking together.
Many of my CUHK classmates take environmental conservation very seriously and insist on bringing their own drinking straws and food bags. After hanging out with them for some time, I became accustomed to saying 'no drinking straws please' when ordering drinks in restaurants. Never had this marred my enjoyment of the beverages but also helped produce less trash.
What is the most important attribute of a Museum of Climate Change docent?
Knowing how to be flexible. A group of secondary school students keen on learning geography might turn up in the morning and an interactive Q & A should be conducted to deepen their memory. In the afternoon, some elderly people with idle time to while away might appear and it is hard to get them to look deep into every exhibit. Still, one must know how to sustain their attention. For instance, when viewing an icefish specimen, they might ask: 'Is this a salted fish?' At this point I would interject: 'This is not something bought in the fishing village of Tai O but an icefish from the South Pole. Seals capture them for food, but the thinning ice caused by climate change has made it extremely tough for these large creatures to prey.'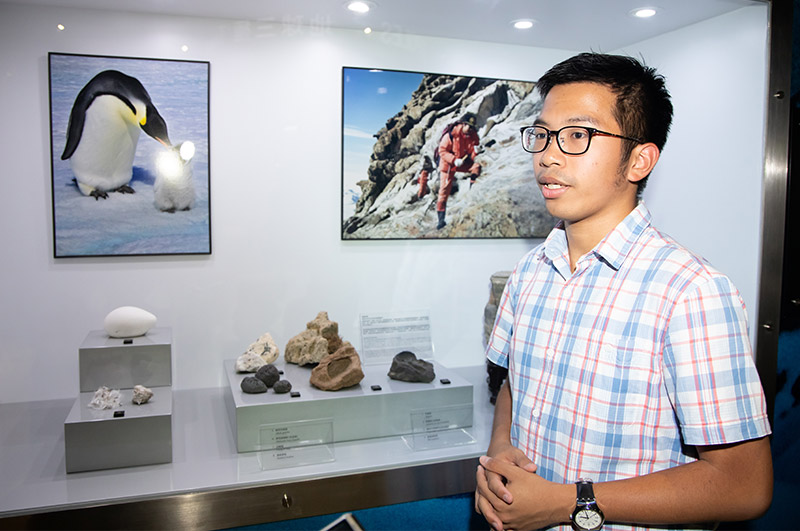 What kind of satisfaction did you get from your docent work?
There were times when I crossed paths with the museum's visitors at other environmental events, where they told me they enjoyed the tours I led and how they had come to love attending such events. These are the moments that kindle my sense of satisfaction.
What are your primary responsibilities as a Youth Network Coordinator in SDSN?
This is a voluntary role, where I mobilize young people to promote the 17 Sustainable Development Goals (SDGs) in Hong Kong and get more universities and both public and private organizations to join SDSN as its Hong Kong Chapter members. I also liaise with other SDSN chapters around the world to plan and coordinate publicity events on a global level.
Tell us about your experience in planning the Hong Kong part of the Move Humanity campaign rolled out globally on 2 December.
When I learned in early November that the Move Humanity campaign was to be held a month later, with an event to sign Mandela's Universal Declaration of Human Rights added in, I studied the related documents immediately to familiarize myself with the event background, prepared publicity material and called for public participation through social media, all of which were rather tough to execute. Fortunately, the SDSN Global Action Team gave me considerable backing, like regularly holding online conferences, discussing the campaign's planning progress with the various chapters and teaching the skills for promoting school-based and community events.
The forum's audience was made up of members of the general public, including competing teams in the Hong Kong Social Enterprise Challenge, who listened to stakeholders of various sectors talking about their experiences in achieving the SDGs in business. I was privileged to be invited to join the discussion on the difficulties that might be encountered and the roles that universities and various social sectors should play when promoting sustainable development. At the forum, I called on the competing teams to set up social enterprises while looking at the larger global picture, because there might be people facing the same problems in some corners of the world that need our help.  
How should everyone do their bit for sustainable development?
There are abundant opportunities to implement SDGs in every aspect of daily life. Before buying clothes, think whether there's really a need to do so. When shopping for food, choose locally sourced ingredients with a lower carbon footprint. Use air-conditioning less after autumn arrives. If time permits, walk more instead of taking vehicles. Small changes made by everyone can add up to create a huge difference for the world.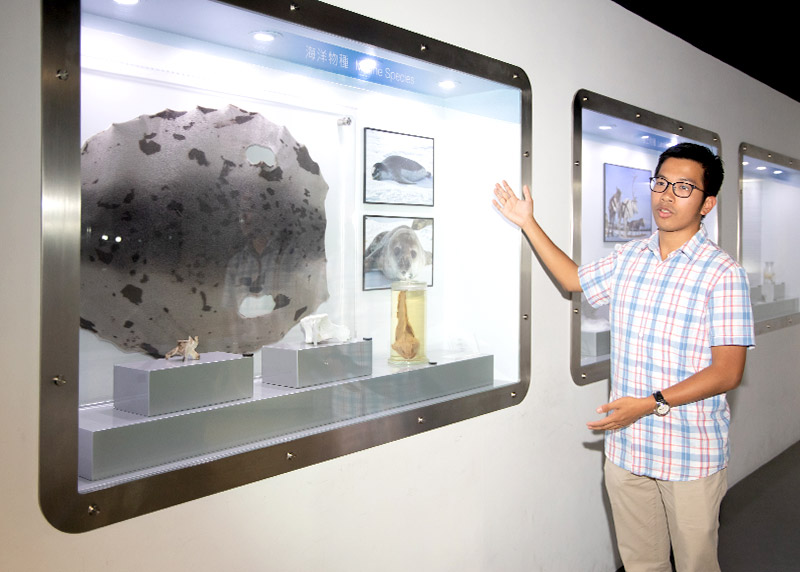 Are you practising what you preach?
Yes. After finishing work at the Education University of Hong Kong in Tai Po yesterday, I walked back to my hostel in CUHK over a distance of eight kilometres.
Building Business For The Greater Good
The Hong Kong Social Enterprise Challenge
As the adage goes, 'it is easier to start a business than to sustain it.' It seems like an impossible mission for youths, fresh from school, to reach their entrepreneurial dreams and contribute to society simultaneously'…